Gîtes de la Source near Colmar and Eguisheim
Holiday rentals in Alsace near Colmar

In Gueberschwihr, picturesque village near Colmar and Eguisheim,
2 holiday rentals 3 corns Gites de France

The 2 lodgings are arranged in a detached half timbered house located on the wine road of Alsace at the top of the village of Gueberschwihr near wineyard and forest and 10 km south of Colmar.
With no passing traffic the Gite is very restful and calm.

Classified with 3 ears of Corn by Gîtes of France - 3 Star*** gite, it is not only an ideal location in itself, but is centrally located to explore the picturesque Alsace Region, Colmar, Eguisheim, Riquewihr, Kaysersberg, Ribeauvillé and the Vosges mountain.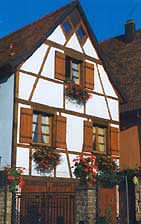 Gites de la Source in Gueberschwihr on the wine trail road in Alsace near Colmar

These 2 holiday cottages, each for 2 to 4 persons, are ideal for a couple and 1 or 2 children. Our gites are both comfortable.
They are classified 3 corns by the Gîtes de France and 3 stars meublés du tourisme.

Gîte 68G3709 on the 1st Floor


Gîtes de la Source, holiday rental in Alsace in Gueberschwihr near Colmar and Eguisheim.
Lodging 68G3709 classified 3 Corn Gîtes de France &
3 Stars meublé de tourisme.
Vacation rental 68G3709 on the 1st floor.